Welcome to the website of the
Allgemeiner Deutscher Klub für Neufundlaender e.V. (ADKN)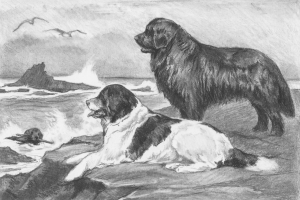 Who we are:
The Allgemeine Deutsche Klub für Neufundländer e.V. – called ADKN – is seen as a racial dog breeding club for Newfoundland and Landseer dogs. It was founded 18.04.1970. The ADKN is both the secondary oldest und second largest club in Germany with the place of business and legal seat in Francfort/M belonging to the ERZ (Europaeischer Rassehundezuchtverband).
What we want:
In the ADKN are united friends, owners and bredders of the Newfondland and Landseer dogs. Our aim (the association purpose) is to keep those unique Newfoundland- and Landseer dogs characteristic to race and to breed both races with thier kind nature in best health purely andaccording to plan. To this strict racial regulations are in force and we are only settin the standard of the FCI as to the breeding.
The ADKN is keeping both a national and an international recognized stud-book. With the very beginning of the stud-book our breed dogs originated mainly from Switzerland an Germany and from breeding according to the regulations of the FCI.
Until today more than 4000 puppies form the ADKN kennel have begun their life way. Some of them were exported to South-Africa, Canada, Hungaria, Luxembourg, Belgium, Italy, Austria, to Switzerland and even to Newfoundland.
The Adkn organizes itself in ten regional committees all over Germany becouse also the
informal with one another and the thing in common with the dogs is important to us too.
In the regional committees walks, exhibitions but also scientific lectures and breeder meetings are organized.
Our club newspaper is bearing the beautiful name "NEUFINEWS" and appears four times a year for almost 900 members and friends. To our most beautiful experience in the ADKN are
belonging our three journeys together with our dogs to their homeland of our trusty animals,
the isle of Newfoundland itself in theyears 1984, 1987 and 1997.
There is an openness for good collaboration with all other clubs and friends of Newfoundland dogs at home and abroad. For further information please contact the ADKN<
Mailto: info@neufundlaender-adkn.de or honorary president, helmut.bongardt@adkn.de

International contacts:
Helmut H. Bongardt
Honorary President ADKN
Mailto: helmut.bongardt@adkn.de